I have been pretending for about 5 days that I am NOT sick. Sure there was a fever involved, but 100 is hardly anything to slow a teacher down! I'm a wife, mom, and teacher... ain't nobody got time for that! (Sorry, that youtube video is stuck in my head, still).
It started with a headache, nothing out of the ordinary. I'm a teacher and it's the last few weeks of school. It progressed to a heavy feeling in my chest- like a 20 pound cat was sitting on it (which there was at one point while I was sleeping). My ears were plugged, which hubby said made me even louder than normal. He's a keeper. It spiraled into coughing and a sore throat... then into me losing my voice off and on. Hubby seemed okay with that part. Today, I conceded and went to urgent care. The doctor informed me that I'm "sick". Thanks. I'm a teacher, not a doctor. Anyway, I have 3 different medications to dry up my head. I'm hoping I don't end up like the shrunken heads on the Jungle Cruise ride at the Magic Kingdom.
Since I'm sitting on the couch, waiting for the meds to take hold.... I have plenty of time to link up with
Farley
. I don't even teach 4th grade, but I L.O.V.E. this girl's sense of humor and honesty! You MUST check her out this summer at: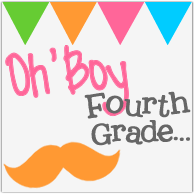 Here is what I am up to right now:
Here's to a day of rest and baseball!